About EQ
The Emmanuel Quartet is an acappella gospel group which began in 1989 as the "Highland Academy Men's Quartet."  In 1993 the quartet's name was changed and The Emmanuel Quartet was born.  
The quartet's concerts are 100% acappella, featuring barbershop-style harmonies and a smooth blend of voices. The members of the quartet are not only musicians by desire, but also ministers of the gospel through music.  The mission of the quartet is to reflect God's love through music, reminding His people that He is with us and that Jesus is returning soon.  Over the years, the faces have changed but the smooth harmonies and genuine spiritual message remain.
The quartet tours the United States presenting concerts to audiences of all ages and religious affiliations. They've also traveled internationally, participating in several evangelistic events.  The quartet's concerts are presented in a manner that would compliment any Christian program or event.
---
Phillip White - tenor
I was born on June 18, 1973 and grew up hearing the theme songs to such TV shows as "Good Times," "Happy Days," and "Welcome Back, Kotter." I was fascinated at a young age with those songs and with all types of music. Some of my earliest memories are of singing with my mother in church for special music.
Later on, I joined choirs and other groups in academy and enjoyed singing duets with my friend Ken Pichulo who is an excellent guitar player. I give Ken much of the credit for steering me in the right direction musically and helping me work through my stage fright. It was during those years that I realized God had given me a gift and I needed to share it in whatever way I could. At Southern Adventist University I sang for four years with the "Die Meistersinger" male chorus, and in 1994 I traveled with the group to the Middle East. We toured Israel, Jordan and Greece, singing at many churches and historic sites such as Petra, Athens and Jerusalem.
I graduated from the university in 1996 and hold a Bachelor's Degree in Religious Education. I taught Bible classes and computer literacy at Laurelbrook Academy for two years and have worked as an information technology manager for several years. I'm currently working as a computer literacy teacher at Covenant Academy in McMinnville, TN. My lovely wife Charity and I live in a rural area near Rock Island, TN with our two dogs, two cats, cockatiel, fish and a host of wild critters, none of whom are allowed in the house.
Joining The Emmanuel Quartet in 1993 was a turning point for me. After touring for only a few months with the guys, I began to see the true impact that music can have on the soul. The greatest reward a musician can receive comes when someone is moved to tears at a concert or has a smile on their face after hearing a song they hadn't heard in many years. The comments we receive from people after a concert make all the hours of practice worthwhile. As I look back over the years, I can see God's hand preparing me for music ministry. I hope you are as blessed by The Emmanuel Quartet as I have been.
---
Gary Sewell - lead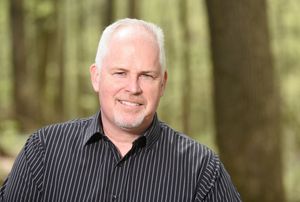 I was born in Loma Linda, California in 1971.  My life seemed to revolve around music.  My brother and I sang in church choirs and boys choirs for many years.  My parents always made sure we were involved in some musical event, probably just to keep us out of trouble. 
I began playing the guitar in 7th grade but then quickly fell in love with the bass guitar.  My parents made many sacrifices to get me instruments to learn. Music has been a love I have been able to pass along on to my kids.
I currently work at Southern Adventist University in the Information Technology Department. In my spare time I enjoy automotive repairs with my sons Hunter, Mason and Charlie, construction projects and singing with my wife and kids.
I've been married to an incredible lady, Karlin, for over 27 years and we have 5 children:  Zachary, Hunter, Mason, Madison and Charlie.  We currently live in Ooltewah, TN.
I have been with The Emmanuel Quartet over 7 years.  It's amazing how God can use ordinary people in such a mighty way.  I pray you are blessed by this ministry!
---
Tim Reutebuch - baritone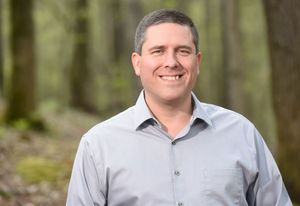 I was born in Anderson, Indiana on January 30th 1973. My family was a musical one and, while growing up, I loved to sing with my sister and my brother. I still love to sing with them whenever I can. Growing up, I sang in choirs and always tried out for the solos. My Dad loved Southern Gospel music and we listened to groups like The Gaither Trio, The Cathedrals, and The Master's Five. Both he and my Mom sang in a traveling group in the Midwest and I spent many weekends traveling with them. When I was 15, my family moved to Portland, Tennessee where I attended Highland Academy. While there, I found a friend who also had a love for quartet music. We especially loved acappella, both old and new. We decided we'd make our own quartet there at the school. During those years, we learned much about creating harmony and blending while singing together. Because of our eclectic tastes, we tried singing a cappella music in various styles, including folk, baber shop, and southern gospel. This experience laid the foundation for the group we see today.
After high school, I got married to a wonderful woman, Rebekah Reutebuch, and we moved to the Ooltewah, TN area. We've been married now for over 25 years. Our family has grown to include our three children, a father-in-law, a niece and nephew, and a long procession of pets.
When I'm not singing, I am either working at McKee Foods Co., where I have been employed for over 26 years, or I am spending time with my family.
My greatest desire as a member of The Emmanuel Quartet is to present God's love through the power of music. Often times, music can touch our hearts in ways mere words may not. I have been greatly blessed to have often seen God's hand moving upon the heart of a person who may be struggling with something and a single chord, or lyric has made a difference to them. God is so good. It is an honor to be used in such a ministry.
---
Will Labrenz - bass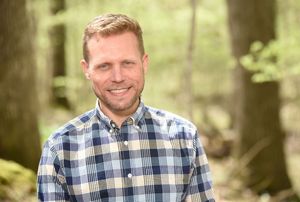 My musical journey began in sixth grade when I discovered the ability to sound like the gospel singers my parents listened to on the radio. My two favorite singing groups were the King's Heralds and the Cathedrals. Over the next few years I dreamed of one day singing bass in a quartet! That dream came true my ninth grade year at Highland Academy when I auditioned for a group that would soon become known as The Emmanuel Quartet. After singing with the quartet from 1990-1997, I'm excited to be back!
I reside in Portland, TN with my wife, Christy and our three children, Elijah, Bailey, and Ethan. I am also an ordained minister currently serving as the Chaplain/Bible Teacher at Highland Academy. 
Endorsements
Dear Emmanuel Quartet, 
Now that camp meeting is finally over, I want to take this opportunity to express my heartfelt gratitude to you for your tremendous contribution to its success. 
Camp Meeting at Lake Junaluska is one of the most anticipated events in Carolina. Your dynamic and inspiring music certainly encouraged and inspired our constituents and set the tone for Sabbath. 
Thank you for all you do to share the truth and I pray God will continue to richly bless you as you seek to serve Him through music. 
In His Service, 
Leslie D. Louis 
President, Carolina Conference, June 24, 2015 
We here at the Ooltewah Seventh-day Adventist Church recently had the Emmanuel Quartet provide a vespers service for our church members and guests.  I just want to say that not only did their music sound pleasing to the ear but their hearts were completely immersed in their presentations and we felt that we were in the presence of Jesus as they very capably proclaimed His message through music.  Their arrangements of the old familiar hymns of the church breathed new life into the timeless messages of Jesus and His Love. 
I recommend the Emmanuel Quartet wholeheartedly.  They will leave you wanting more and you will go away singing the tunes and remembering the messages for many days. 
Larry J. Otto  
Music Cordinator, May 21, 2015 
http://www.ooltewahchurch.org/
Dear Ryan, Phillip, Gary and Tim, 
The words "Thank you, " just seem so inadequate to express our appreciation for your coming to be a part of our South Louisiana Camp Meeting this past weekend in Hammond, LA. However, please know that we are most grateful for the blessing your ministry in music brought to our weekend services. 
It is always so pleasant to have people come and express their appreciation for a speaker or for a music group. Let me tell you, this past weekend I had a lot of pleasant moments as so many came and told me how much they appreciated your ministry! In addition, I personally was greatly blessed and inspired. May God be praised for your gift of beautiful harmony and your willingness to use your talent in a way that brings such glory to His name. 
Please know that you far exceeded our expectations and we are most grateful and truly blessed. May the Lord continue to use you to bless and inspire others through your unique musical style and harmonies. 
Stephen Orian  
President, Arkansas-Louisiana Conference, May 09, 2013 

Dear Emmanuel Quartet, 
Thank you so much for joining us at the 2010 Pennsylvania Conference Camp Meeting this year. The musical ministry that you brought was very uplifting and inspiring. Many of our faithful members commented on how they appreciated your music. 
I trust and hope that your hearts were also blessed as you joined us, and I look forward to any opportunity to work together in the future. 
May God bless you richly. 
Ray Hartwell  
President of Pennsylvania Conference, July 13, 2010 
We were very fortunate to have the Emmanuel Quartet present worship in music during our church service of February 10th, 2007. Their acappella music style allows you to focus on the vocal harmonies and the words of each piece. Their musical expertise is to be commended. These four men presented a worshipful experience. 
Our congregational worship is planned and prepared by a worship committee comprised of members of First Church with varying worship tastes and styles as representatives of the whole congregation. We were all blessed by the Emmanuel Quartet's presentation on that Sabbath morning; received many thanks from our congregation for inviting them to come and will whole-heartedly welcome them back to First Church at the earliest opportunity. 
We confidently recommend them as a blessing to any worship service. 
Raylene Wilcox  
Nashville First SDA Church, April 17, 2007 
Share